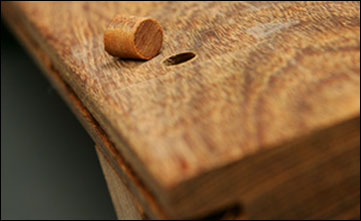 Create a Flawless Deck Surface
You have worked long and hard to build your ipe deck, spending time, energy, and money to create your ideal backyard. Naturally, you want it to be perfect, but unfortunately your deck surface is now covered with pesky holes from nails and screws. That is where ipe plugs come in. Designed to fit into nail and screw holes, ipe plugs make it so you don't have to put up with unsightly blemishes marring your beautiful deck surface. We sell two kinds of ipe plugs: regular plugs and Extreme Plugs™. Whichever type you choose, it is sure to enhance the quality of your backyard and showcase the natural beauty of the wood.
Regular and Extreme™ Ipe Plugs
These are the simplest form of ipe plugs; simply glue them in place. Coming in at 3/8" long with a 3/8" diameter, plus a 1° taper, regular ipe plugs provide a snug fit and will get the job done for cheap.
But as effective as regular ipe plugs are, we were not satisfied. The result of lots of research, Extreme Plugs™ are the most scientifically advanced plugs on the market. They are cut slightly off-round with rings running up and down the length to act as anchor hooks. Extreme Plugs" will fit snugly and will not pop out, making them the best wood plug option.